Financial Lives is our first large-scale tracking survey of UK consumers and finance in the UK.
Based on nearly 13,000 face-to-face and online interviews, Financial Lives is our largest tracking survey on consumers and finance. It reveals a wealth of information about different types of consumer and their experiences of financial products and services.
It is the key source of information that underpins our consumer protection work and also provides valuable insights for any organisation focusing on consumers and finance.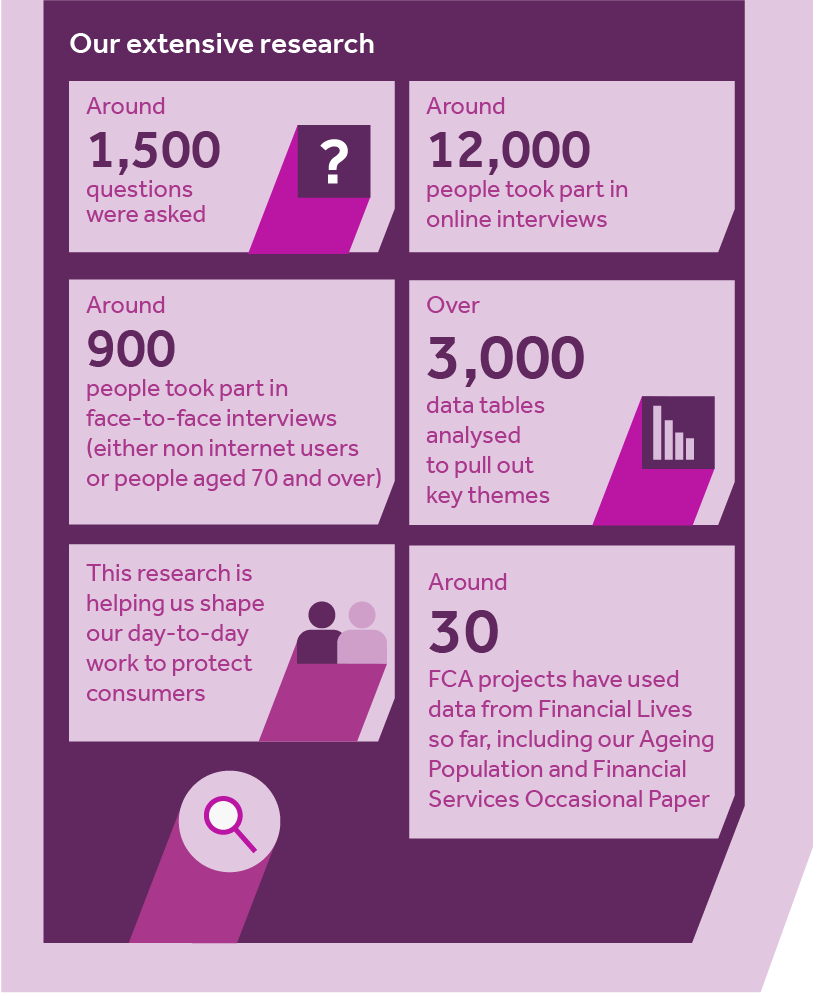 View larger graphic [PDF]
Key findings
As part of our commitment made in our Mission to be more transparent about the way we work, we are opening up the results of this survey for wider use by stakeholders.
The results from this survey can be analysed in a number of different ways. Our 2017 report provides initial results from the survey, highlighting some key facts and figures.
Highlights of what consumers have told us (PDF)
Age is the main focus of our analysis and we have summarised the main findings by different age groups:
We intend to review further insights from our 2017 survey over the year ahead and will use the data to design new ways to protect consumers.
Executive Summary (PDF)
Further information
To provide greater access to the survey findings, we have published the questionnaire (PDF) and a set of weighted data tables showing the results from the full survey.
We have also published a guide for stakeholders on how to use these data tables (PDF).
A separate Financial Lives Survey 2017 Technical Report (PDF) provides detailed information on survey sampling and design, questionnaire testing and piloting, quality control, weighting and survey strengths and limitations.