Our annual Business Plan gives details of the key priorities and the planned specific activities for the next year.
Read our Business Plan 2019/20 (PDF)
Our Business Plan sets out our main areas of focus for 2019/20. It outlines our priorities and describes our response to the issues we have identified. It covers our supervisory priorities as well as market studies and the policy work we undertake. This enables industry and consumers to understand the entirety of our work in their sector and what they can expect from us in the coming year.
Firms, consumers and markets have already weathered a considerable period of Brexit-related uncertainty. Against this backdrop, our focus is on ensuring Brexit is implemented in a way that delivers on our objectives – ensuring we maintain market integrity, protect consumers and make competition work well.
Our key priorities and planned activities for this year are set out under our 8 priorities which cut across different financial sectors as well as our priorities for the 7 specific sectors we regulate. It also reflects the variety of changes affecting both financial services and the wider society and shows how we will use our resources to tackle these challenges.
Much of what we do and the harms we try to address are complex and will continue to be priorities for future Business Plans and we will continue adapt our approach to the ever-changing landscape.
FCA Chief Executive Andrew Bailey discusses the Business Plan, and his thoughts on the future of financial regulation.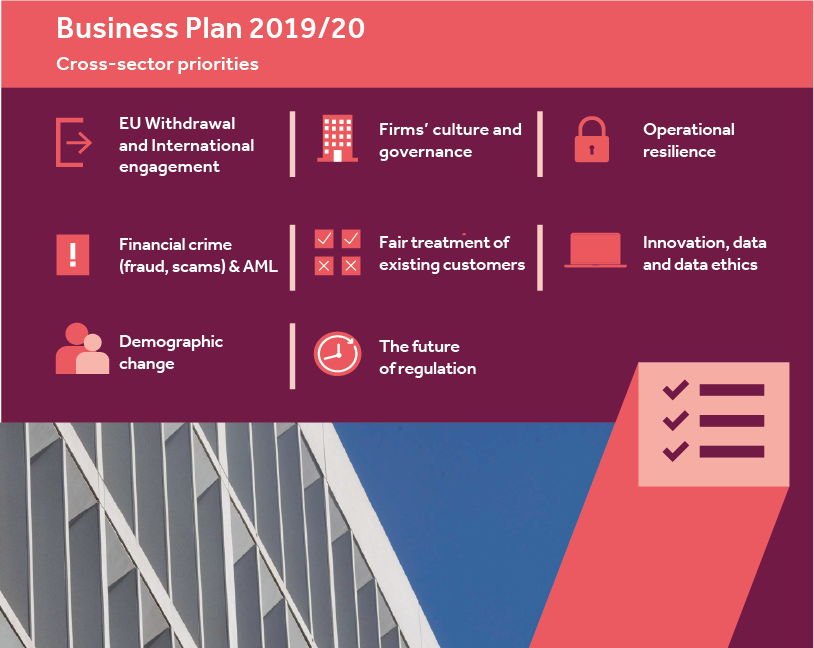 View image in publication (PDF)
In our Business Plan
Chapters