This report presents the findings from our follow-up review of the mobile phone insurance market.
Mobile phone insurance: follow up review findings [PDF]
Why did we carry out this thematic review?
In our previous report TR13/2 Mobile phone insurance – ensuring a fair deal for consumers we identified a number of practices within the mobile phone insurance market that were leading to poor outcomes for consumers.
As a consequence of these findings we took specific regulatory actions in relation to some firms and engaged with the wider market to drive changes in practices and improve customer outcomes.
We carried out this thematic review to follow up on TR13/2 to establish whether the mobile phone insurance (MPI) market has now embedded practices which consistently deliver fair outcomes to customers.
Who should read this?
This report will be of interest to firms involved in the provision of mobile phone insurance products and users of mobile phone insurance.
What are our findings?
Our review suggests that that there was still a significant range of practices and outcomes within the MPI market. Some firms had improved their practices, with evidence that customers were now consistently receiving fair outcomes. However, there were still many firms included in this follow-up review where this was not the case despite our previous work in this area and the clear expectations we set out in TR13/2.
Mobile phone thematic review infographic [PDF]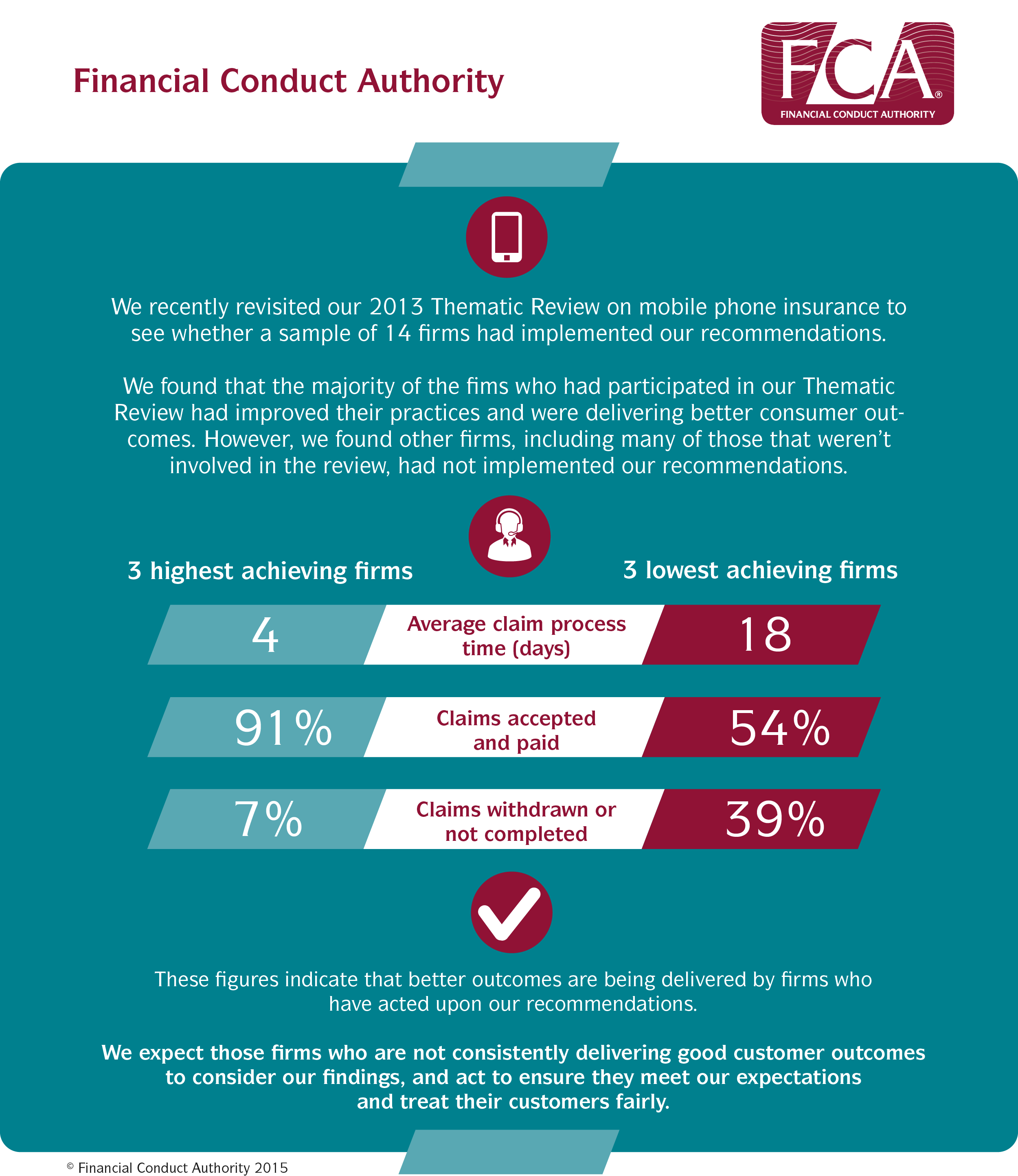 What are the next steps?
Following our intervention, a number of firms have already made further improvements to their claims and complaints handling. We have asked all the firms included in this follow-up review to provide us with action plans to ensure they make the necessary improvements. Further to the shortcomings identified, three of the firms involved in the review have also voluntarily agreed to compensate customers as part of the work being carried out under these action plans.
We will continue to work with the firms included in the review to ensure that they complete any further actions required of them. We are addressing the shortcomings identified using the full range of regulatory tools available to us.  This includes one case where we have commissioned a third party review of the firm's practices and controls, and we are also considering the use of Enforcement.