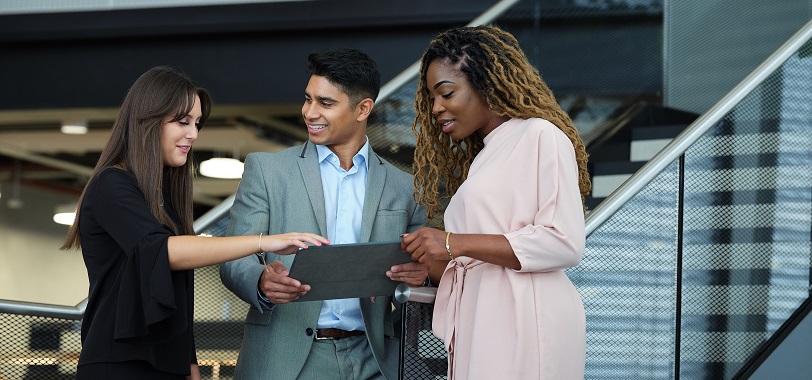 The FCA Academy
The work we do impacts millions of people and thousands of businesses, which is why we are dedicated to learning, sharing our knowledge and teaching others.
The FCA Academy offers an exciting range of learning and development opportunities. It's part of our commitment to 'always learning'. It's here to empower everyone.
Whether you're an administrator or a director, we encourage our people to explore the benefits of the FCA Academy. With a combination of on-the-job development, formal and self-directed learning, you'll find the intellectual stimulation and the confidence you need to excel.
The FCA curriculum
We are building a learning culture where knowledge is freely shared, expertise is valued and where development programmes help our people to perform at their best. The FCA curriculum evolves continuously to meet our business needs and further your skills. We offer a range of learning opportunities in the following areas:
Accounting
Financial Markets & Services
IT & Systems
Regulatory Learning
Project & Programme Management
Leadership & People Management
Personal Effectiveness
External Learning & Qualifications
Accelerated Development
Structured learning plans
Secondments
For those who have worked with us for a year, we run a programme of strategic secondments across the UK, Europe and internationally. If you're offered a placement, you could find yourself working with an international regulator such as the SEC in Washington DC.
These secondments will allow you to support our international agenda, work on key policy issues and develop your career in regulation. We also have consumer-focused secondment opportunities to organisations such as charities or the firms that we regulate.
Apprenticeships
As of March 2021, we had 5.5% of our workforce enrolled onto apprenticeship programmes, up from 3.1% in 2020. In 2020/21 3.7% of our colleagues started apprenticeships, above the Department of Education's public sector target of 2.3%. 
Summary of our progress 
| Year | FCA employees | Total new hires | % of new hires that were apprentices | Number of apprenticeships started | Number of apprentices on programme | % of FCA employees that has started apprenticeships |
| --- | --- | --- | --- | --- | --- | --- |
| 2020/21 | 4,070 | 315 | 7.6% | 149 | 220 | 3.7% |
Number of apprentices by subject
| Operations and legal | Digital | Data | Risk and compliance | Accountancy and finance | Management |
| --- | --- | --- | --- | --- | --- |
| 13 | 4 | 43 | 43 | 41 | 5 |
We aim to be an employer of choice, offering unique career opportunities and an inclusive workplace where everyone aspires to perform at their best. Through the use of apprenticeships, we aspire to build capabilities that are fit for the future. 
During 2020, we enrolled 149 new and existing staff onto apprenticeship programmes, giving us a total of 220 apprentices on a programme as at 31 March 2021.  
We now offer 27 apprenticeship programmes across a range of subjects relevant to our work. Apprenticeship standards covering Compliance Risk and Data were our most popular, followed by Financial Services Professional, Digital & Technology and Cyber Security and a range of corporate services apprenticeships including HR, Business Administration and Accountancy.  
We are continuing to build on our range of apprenticeship offers and we expect apprenticeships to remain our focal point in building the skills of our people. 
Page updates
14/09/2021:
Information added
Apprenticeship data added for 2020/21