On 2 January 2015, we introduced a price cap on what high-cost short-term credit lenders can charge.
Background
We began regulating high-cost short-term credit (including payday loans) on 1 April 2014, with a strong commitment and clear remit to tackle poor conduct in the market. We made new rules on affordability, advertising, rollovers and the use of continuous payment authorities in February 2014 (PS 14/3) and have taken supervisory action where firms have breached our requirements.
In December 2013, Parliament gave us a duty to introduce a price cap to secure an appropriate degree of protection from excessive charges for borrowers of high-cost short-term credit. Our price cap rules came into effect on 2 January 2015.
We consulted on our proposals in July 2014 (CP14/10). In this policy statement we set out our responses to the issues raised, the changes we have made as a result, and our final rules.
Policy statement PS14/16 [PDF]
The final price cap
After reviewing responses we have decided to introduce the price cap structure and levels which we proposed in July. Our price cap means that customers taking out a loan on or after 2 January will never need to pay back more than twice what they borrowed, and someone taking out a typical loan over 30 days and repaying on time will not pay more than £24 per £100 borrowed.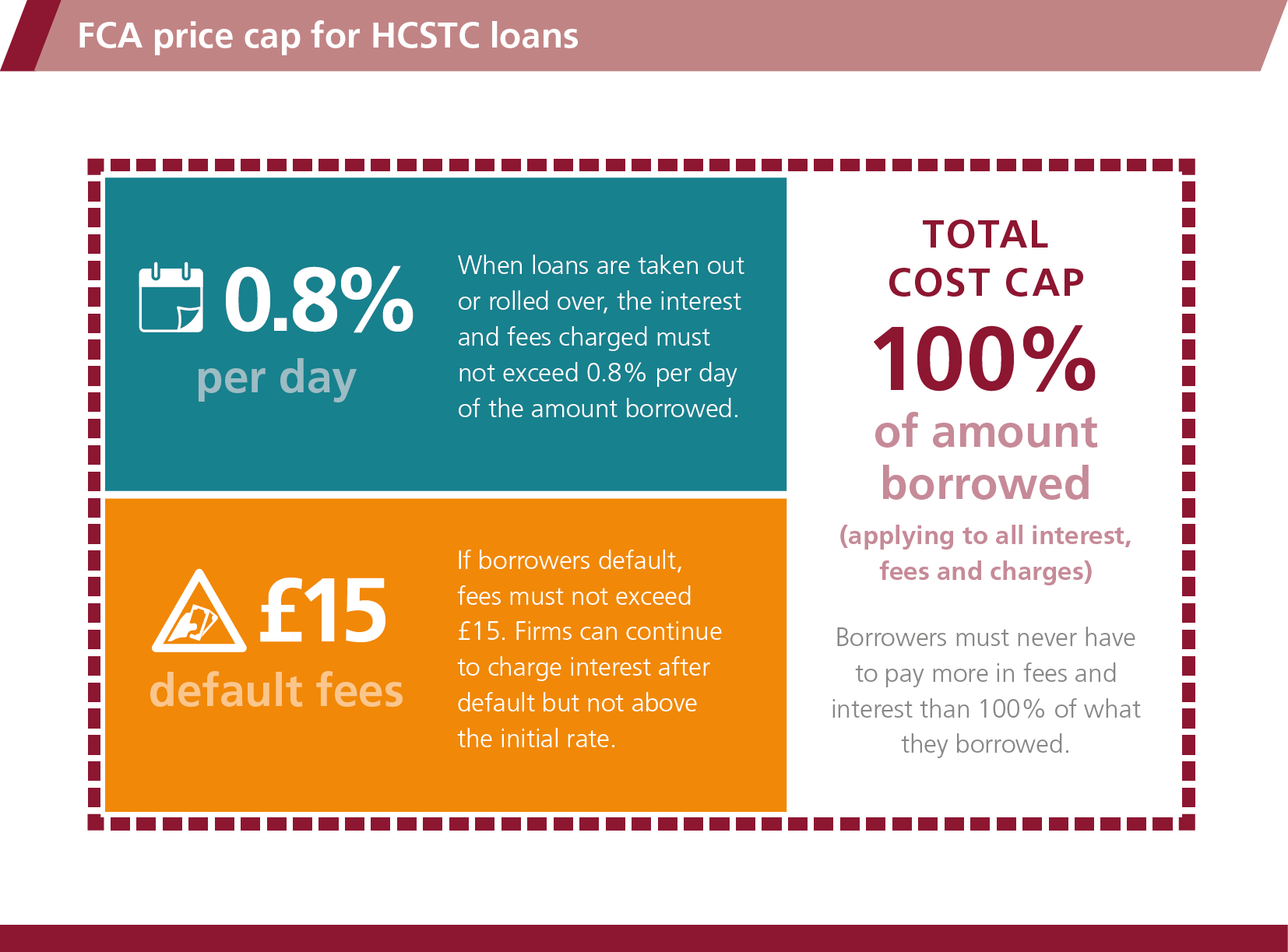 View full sized image PDF
Responses
We received over 70 responses to our consultation from a wide range of stakeholders. We reviewed all of them and carried out additional research to follow up some of the issues raised.
The main issues arising from the responses we considered and satisfied ourselves on were:
whether our proposals were proportionate, striking the right balance between protecting consumers and the impact on firms and on competition (see Chapter 2)
whether we had failed fully to consider the impact on high-street lenders (see Chapter 2)
whether the price cap structure should be adjusted to enable firms to continue providing very short-term/small loans (see Chapter 3)
the treatment of instalment loans, and in particular whether these should have a different structure or level of default cap (see Chapter 3)
other issues relating to the structure and levels of the cap (see Chapter 3)
We have, however, made some changes and clarifications in response to points raised in the consultation – these are set out in Chapter 4.
Next steps
The price cap came into effect on 2 January 2015 and we will review it two years after implementation, in the first half of 2017. In the meantime we will monitor whether there are any unintended consequences emerging for firms or consumers, including the impact on people who are no longer able to get this type of credit.
Further information on forthcoming FCA consultations relevant to the Consumer Credit market is in Chapter 7.
Further information
Page updates
:
Link changed
Fixed broken link.