The pension reforms have brought about significant changes in the way consumers can access their pensions. We have collected data from retirement income providers so we can track and monitor changes in the market.
This report covers the period of July to September 2015, and the following topics:
choices made by consumers accessing their pensions
guaranteed annuity rates – levels taken up and not taken up
levels of pension withdrawals for customers making a partial withdrawal
use of regulated advisers
consumers' stated use of Pension Wise
whether consumers change providers when accessing their pensions
We asked a representative sample of pension and retirement income providers to give us data on a quarterly basis.  
Retirement income market data: July-September 2015 (PDF)
Note of corrections to the original report
In the original report we included data on the numbers of people cashing out their pension pot. We have now revised the published version of the report, as follows:
In the original report, we stated that 68% of new customers had fully cashed out their pension in the quarter. We have replaced this percentage with the number of people cashing out of their pension within the quarter (120,969). This includes customers who were accessing their pension for the first time in the quarter and existing customers who were already in retirement income products.  
This affects pages 2, 3, 4 and 6 of the original report, and the infographic.
Why we collected this data
This quarterly data collection is part of our commitment to monitor and assess the impact of the pension reforms which we made in the Retirement income market study. It also follows on from data we published in September 2015 to contribute to HM Treasury's consultation on pension transfers and any potential barriers for consumers seeking to access the new pension flexibilities.
We are using this data to help shape the way we regulate this market, supervise firms and to inform our planned work looking at retirement outcomes in Q2 2016.
Our findings
The analysis and findings of the data are set out in detail in the report however we have produced a short summary of the key findings in the graphic below.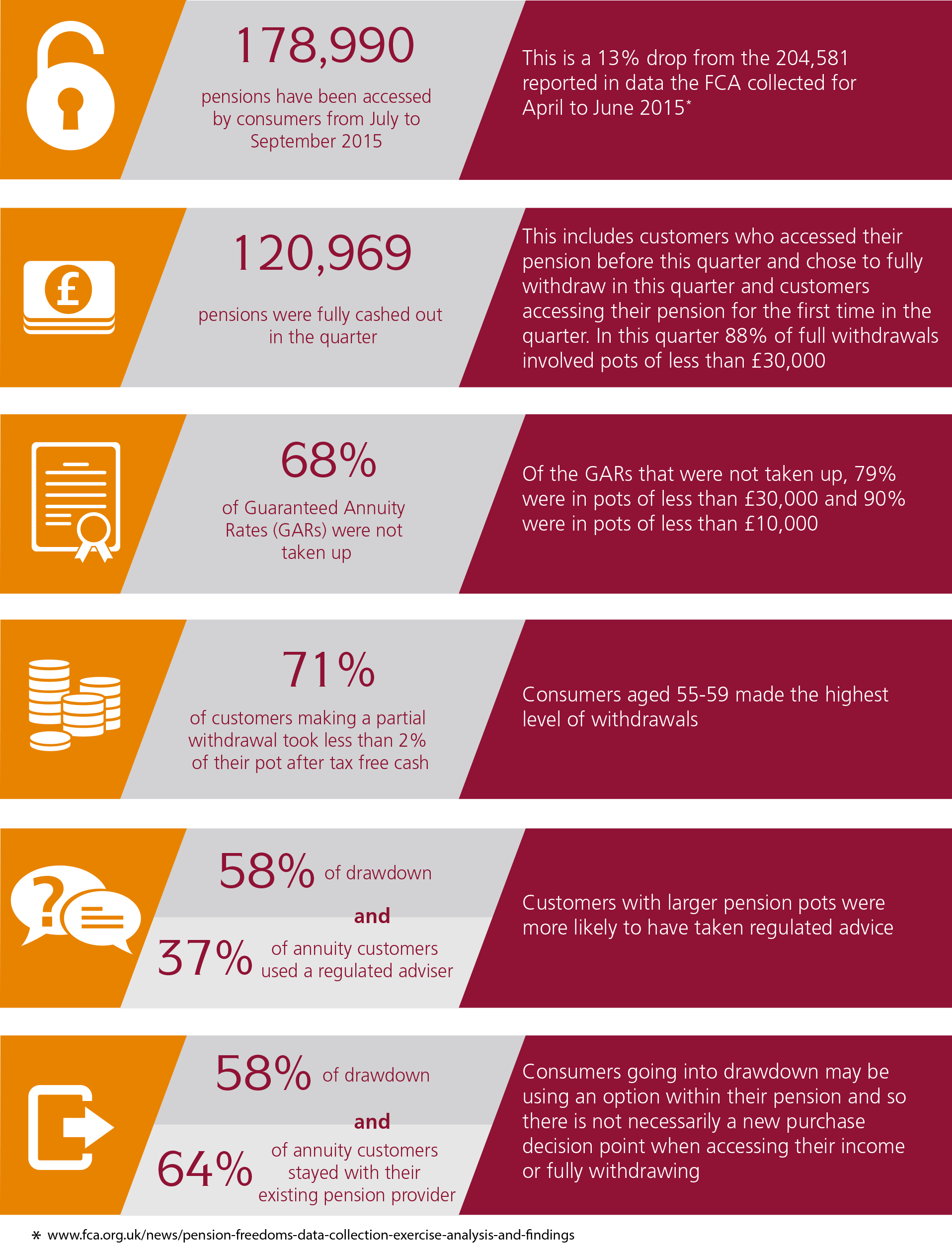 View larger graphic [PDF]
Next steps
This is the first publication of this data. In future, data will be included in our quarterly Data Bulletin.