We have taken action where we have seen evidence of attempted benchmark manipulation. Learn more about the results of these actions and the firms fined.
We have imposed fines on firms following attempted manipulation of LIBOR, gold and foreign exchange (FX) benchmarks and have taken action against individuals for misconduct regarding benchmarks.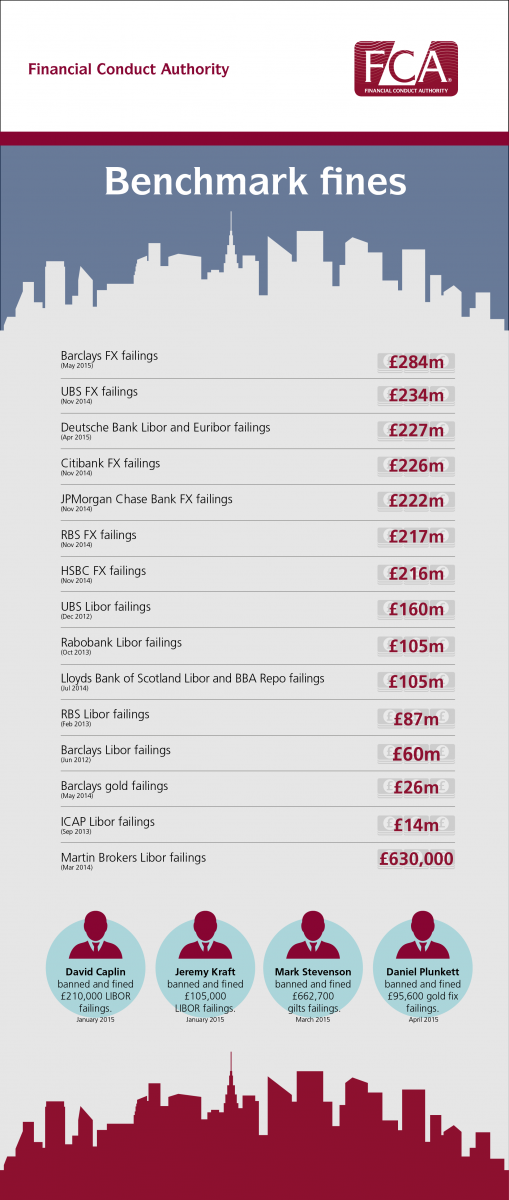 Download Benchmarks fines [PDF, 578KB].
Why we monitor benchmarks
Attempted manipulation of benchmarks is unacceptable, and falls short of the standards we expect of firms and individuals.
In addition to the high-level principles and fitness and propriety standards under which we have previously taken enforcement action against misconduct regarding benchmarks, our powers now include the ability to bring criminal prosecutions for certain types of conduct regarding regulated benchmarks.
The relevant criminal regime is set out in Section 91 of the Financial Services Act 2012, and includes two offences:
Making false or misleading statements in the course of arrangements for setting a relevant benchmark, intending that the statement(s) will be used for the purpose of setting the benchmark.
Creating a false or misleading impression as to the price or value of an investment (or as to the appropriate interest rate for a transaction), in the knowledge that the impression may affect the setting of a relevant benchmark.
More about our enforcement action
We have fined 6 banks £1.4bn for failings in their FX business and we announced an industry-wide remediation programme in November 2014. 
Watch the press conference about the fines imposed on the first 5 banks in November 2014.
You can see more information about how the FX market works, what the FX 'fixes' were, how they were set and how traders attempted to manipulate them:
Gold
We fined Barclays £26m for misconduct regarding the gold fixing benchmark. We also banned and fined a former Barclays trader £95,600.
LIBOR and EURIBOR
Barclays, UBS, RBS, ICAP, Rabobank, Martin Brokers, Lloyds and Bank of Scotland and Deutsche Bank have been fined over £757m for LIBOR and EURIBOR related misconduct.