We report on our gender and ethnicity pay gaps.
The FCA and diversity
Diversity and Inclusion are central to how the FCA acts, both as an employer and as a regulator, and are at the heart of our Mission. Our message is clear. Whether you are the regulator or a regulated firm, diversity matters. A diversity of perspectives and thought results in better judgements and better decision-making in the public interest. It reduces the risk of group think and encourages innovation.
As a regulator, we know that Diversity and Inclusion are central elements underpinning good culture in firms – so they are important features of how the FCA evaluates firm culture and conduct.
As an employer, we need to get this right. The work of the FCA touches almost every UK resident's daily life, and the lives of millions who rely on UK markets, so we need to reflect the society we serve. We operate in an environment of increasing complexity and we need diverse teams capable of dealing with the tough challenges we face and the complex judgements we need to make every day.
As a public body we must comply with the Public Sector Equality Duty, both as an employer and in the regulatory activity we undertake. This means that we must look for ways to eliminate discrimination, advance equality of opportunity and foster good relations between people with a protected characteristic and those without – both within the FCA and in the way we regulate.
We have set targets for both gender and Black, Asian and Minority Ethnic (BAME) diversity at senior levels in the FCA, and we are taking positive action right across the board (whether we have targets or not) to meet our overall aspirations to be a truly diverse and inclusive organisation.
Gender and ethnicity at the FCA
We recognise the important role we play, as a regulator, in improving diversity across the financial services industry. That's why in June 2016 the FCA was in the first group to sign the Government's Women in Finance Charter which seeks to increase the representation of women in the financial services sector, particularly at senior levels.
The Charter requires us to set and report on gender targets for our senior leadership team. At the same time we set targets to improve senior representation of those who identify as BAME, as part of our continued commitment to BAME progression.
Our targets are for 45% of our senior leadership team to identify as women by 2020, and 50% by 2025, and for 8% of our senior leadership team to identify as BAME by 2020, rising to 13% by 2025.
In the year to March 2019, representation of women in our Senior Leadership Team (SLT) rose from 39% to 40%. We have also seen the percentage of our SLT who identify as BAME rise from 5% to 7% in the same period.
We were pleased to jointly win the Women in Finance Employer of the Year Award 2018 and to be placed in the Times Top 50 Employers for Women listing in April 2019 and the BITC Best Employers for Race 2018. Whilst this recognises our progress, we are far from complacent – there is much more still to do.
Our pay gap data
Since 2017, all employers in Great Britain with more than 250 staff are required by law to publish their Gender pay gap figures annually. The gender pay gap is the difference in the average hourly salary of all men and women across the organisation, described by the mean and median. The gender pay gap should not be confused with equal pay which refers to men and women receiving the same pay for the same job or work of equal value.
Whilst it is not a legal requirement, as part of our wider Diversity & Inclusion (D&I) strategy to improve BAME representation at the FCA, we have decided to publish details of our ethnicity pay gap (the difference in average hourly pay of ethnic minorities and white people across the organisation) for the first time.
We believe that data transparency drives action – it encourages debate and discussion, highlights areas where improvements need to be made, and drives us to take positive action to address our challenges. It signals the importance of D&I to us as an organisation. Our ethnicity declaration rates are high, at 98%, so we have confidence in the accuracy of our data.
We hope to lead by example, and that financial services firms will be encouraged to publish their ethnicity pay gaps, and to take action. We welcome the government consultation on ethnicity pay gap reporting, and recognise that if reporting becomes mandated it may require us to report differently in the future. For now, our ethnicity pay gap calculations are based on the same methodology as the gender pay gap calculations.
We are committed to reducing both our gender and ethnicity pay gaps.
Pay and bonus gaps
The median gender pay gap at the FCA this year is 20.6% down slightly from 21.2% in 2018 and the mean gender pay gap is 17.8% down from 18.5% in 2018. The BAME pay gap is 28.7% median and 27.2% mean.
Gender pay gap
Pay
Median
Mean

 

BAME pay gap

20.6%

17.8%

 

Pay
Median
Mean
 
28.7%
27.2%
The bonus gap is based on the gross bonus paid in the period from April 1st 2018 to March 31st 2019.
Our gender bonus gap is 23.5% (median) and 20.5% (mean). There has been a 2.7 percentage point decrease in the median while the mean has remained almost static since last year. Our BAME bonus gap is 31.8% (median) and 30.9% (mean).
Gender bonus gap
Bonus
Median
Mean

 

BAME bonus gap

23.5%

20.5%

 

Bonus
Median
Mean
 
31.8%
30.9%
Total bonus amount and proportion
In the last 12 months 76% of women received a bonus compared to 71% of men, this was a reduction in the number receiving a bonus for both genders, 7 percentage points less for women and 6 percentage points for men. Although women received a higher proportion of bonuses, as bonus is calculated as a percentage of salary, the monetary value is smaller for both the median and mean.
Total bonus amount and proportion – gender

Total bonus amount and proportion – BAME
The proportion of the relevant BAME population which received a bonus in the last 12 months is 63% compared to 71% of the relevant non-BAME population.
Distribution by salary quartiles
The diagrams below are representations of the gender and ethnicity distribution within the FCA. All employees are ranked together based on hourly earnings from the lowest to the highest. The list is then divided into four sections (called quartiles) with an equal number of employees in each.
Gender distribution by salary quartile

Ethnicity distribution by salary quartile

Why we have gender and ethnicity pay gaps
Our pay gaps are driven by an imbalance of men and women and BAME and non-BAME colleagues across different levels of the organisation. There is an under-representation of women and BAME people in senior roles and similarly a high representation of women and BAME colleagues in our business support and junior associate roles.
Our gender pay gap data continues to highlight two particular areas of imbalance – one at Technical Specialist level (in our higher paid middle-management layer), with only 31% women, and one at business support level (in our lower paid layer), with 82% women in those grades. At other grades our balance is better – across our Associate population (49% women), our Manager population (44% women) and our most senior grades (40% of our SLT identify as women, including 44% of our Executive Committee). 50% of our Non-Executive Directors are also women.
The imbalance is more widely spread for our BAME figures. We have a significantly lower proportion of BAME employees in our most senior roles (7%) and our middle-management roles (11% manager, 15% technical specialist) than we do in our associate (30%) and administrative roles (32%). And we have an imbalance within our grades – for example we have more BAME employees in junior associate roles than we do in more senior associate roles. This is driving our BAME pay gap.
We are striving for balance at all levels, which in turn will ensure we have a good pipeline of internal talent to develop into our senior roles.
What we are doing to improve gender and race diversity at the FCA
You can read more about our diversity and inclusion strategy and the actions we have taken to improve diversity and inclusion at the FCA in our annual diversity report 2019.
We are continuing to work hard to ensure that we meet our targets and our aspirations to become a truly diverse and inclusive organisation. During the past year, 53% of all people promoted from one job grade to a higher one (e.g. from Administrator to Associate or from Associate to Manger) were women (down slightly from 58% last year) and 28% were BAME (up from 18% in the previous year). We need to maintain momentum to really make a difference, to ensure we recruit and retain the best diverse talent – we are doing this through our Positive Action Framework.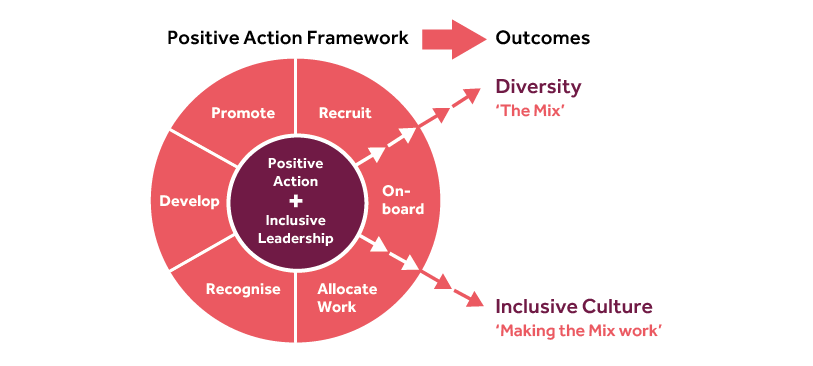 The Positive Action Framework equips line managers with the tools they need to take positive action through the employee lifecycle and in everyday leadership actions.  The framework supports the implementation and development of our internal policies and practices to address under-representation.
Examples of the positive action we are taking to ensure that people are fairly treated at all stages of their career, regardless of their gender, ethnicity or other characteristics, include:
We have developed an extensive D&I data dashboard, which tracks things like turnover, application to hire rates, acting up opportunities and employee survey feedback, to help us to better pinpoint areas were positive action is most required.
Flexible working arrangements - we continually develop and promote a range of career support and flexible working options, including part-time working that are open to all, not just those with caring responsibilities. We know from our employee engagement survey and other feedback that this is highly valued. The new technology and new ways of working we introduced as part of the move of our London Headquarters to Stratford in 2018 has further improved our ability to work more flexibly.
Pay – we sample and test salary distributions at appointment, and compare performance ratings, pay and bonus amounts at annual pay review by gender and ethnicity. Through robust moderation meetings, we ensure that salary offers, progressions and performance outcomes are fair and unbiased.
Recruitment – our recruitment agencies help us understand industry best practice. We recently changed provider for our executive assessments and their understanding the importance of diversity and inclusion was key in our selection criteria. We use a 'Gender Decoder' to ensure job descriptions are not gender biased. We also have recruitment training in place which helps those involved in hiring understand bias.
All senior leaders and managers have a shared objective to promote diversity and inclusion across the organisation and inclusive leadership is a core component of our management and senior leadership training
Divisional D&I working groups ensure the Positive Action Framework is brought to life throughout the FCA in our divisions and help shape our overall agenda.
Our active gender ('Balance') and race ('Spectrum') network groups have senior champions who sit on our Executive Diversity Committee. 
We have signed the Race at Work Charter and pay gap and target reporting is in line with one of the principles within it, to 'Capture ethnicity data and publicise progress'.
We are using our BAME sponsorship programme to help us develop a talent pipeline to build on progress to date against our BAME target.  
We have continued with our Reverse mentoring scheme for the third year running with 40 senior leaders being mentored by BAME colleagues.
Still much more to do
As our pay gap figures show, we still have a huge amount to do.  It will take focused action across all areas of our organisation, and at all levels, to make the changes we need to make. This is not easy, but we know that diverse and inclusive cultures lead to better decision making and higher performing organisations – so this is a challenge that both we and the firms we regulate need to tackle head-on.
We will continue striving to identify more ways to help further our diversity and inclusion agenda at the FCA and across the firms that we regulate.
Page updates
10/06/2022:
Editorial amendment
Links added to right hand navigation.
16/05/2022:
Editorial amendment
Page moved to data section.