We report on our gender pay gap and our target to increase the senior representation of women at the FCA.
The FCA and diversity
Diversity and Inclusion are central to how the FCA acts, both as an employer and as a regulator, and are at the heart of our Mission. Our message is clear. Whether you are the regulator or a regulated firm, diversity matters. A diversity of perspectives and thought results in better judgements and better decision-making in the public interest. It reduces the risk of group think and encourages innovation.
As a regulator, we know that Diversity and Inclusion are central elements underpinning good culture in firms – so they are important features of how the FCA evaluates firm culture and conduct.
As an employer, we need to get this right. The work of the FCA touches almost every UK resident's daily life, and the lives of millions who rely on UK markets, so we need to reflect the society we serve. We operate in an environment of increasing complexity and we need diverse teams capable of dealing with the tough challenges we face and the complex judgements we need to make every day.
As a public body we must comply with the Public Sector Equality Duty, both as an employer and in the regulatory activity we undertake. This means that we must look for ways to eliminate discrimination, advance equality of opportunity and foster good relations between people with a protected characteristic and those without – both within the FCA and in the way we regulate.
We have set targets for both gender and Black, Asian and Minority Ethnic (BAME) diversity at senior levels in the FCA, and we are taking positive action right across the board (whether we have targets or not) to meet our overall aspirations to be a truly diverse and inclusive organisation
Gender at the FCA
We recognise the important role we play, as a regulator, in improving gender balance across the financial services industry. That's why in June 2016 the FCA was in the first group to sign the Government's Women in Finance Charter which seeks to increase the representation of women in the financial services sector, particularly at senior levels. The Charter requires us to set and report on gender targets.
We have made progress against the targets we've set ourselves to improve senior representation of people who identify as women, as well as those who identify as BAME. In the year to March 2018, representation of women rose from 36% to 39%. We have also seen the percentage of our Senior Leadership Team who identify as BAME rise from 2% to 5% in the same period.
As a result, we are on track to meet our targets, which are for 45% of our senior leadership team to identify as female by 2020, and 50% by 2025, and for 8% of our senior leadership team to identify as BAME by 2020, rising to 13% by 2025.
However, we recognise there is no room for complacency. When we signed up to the Charter in June 2016 we had 39% female representation at Senior Leadership Team level.  Our representation of women fell to 36% in 2017, but as at 31 March 2018 we have 39% female representation in senior management again.  Our new Diversity and Inclusion approach has regained the ground we lost last year.
Achievements
We were pleased to jointly win the Women in Finance Employer of the Year Award, 2018 and are proud of our gender split at senior levels of the organisation – 50% of our Non-Executive Directors identify as female, 44% of our Executive Committee and 39% of our Senior Leadership Team. Not only is this gender diversity at senior levels an important factor in us being able to make sound judgements and decisions as a regulator, but having active and visible role models at senior levels also helps us to develop a diverse pipeline of future talent too. We recognise that while we have a good story to tell at senior management level, we also need to focus on our middle management layer - to ensure we have diversity of thought and perspective at all levels in our organisation.
We are continuing to work hard to ensure that we meet our targets and our aspirations to become a truly diverse and inclusive organisation. In the year 2017/18 over half of our hires into the Senior Leadership Team were women, and we have a particularly good record of internal promotions. Last year 9 out of 11 internal hires into our Senior Leadership Team were women, demonstrating our strong internal pipeline. But we need to maintain momentum to really make a difference (particularly to ensure we recruit the best talent from a diverse base externally) – and that is what we are doing at the FCA through our Positive Action Framework.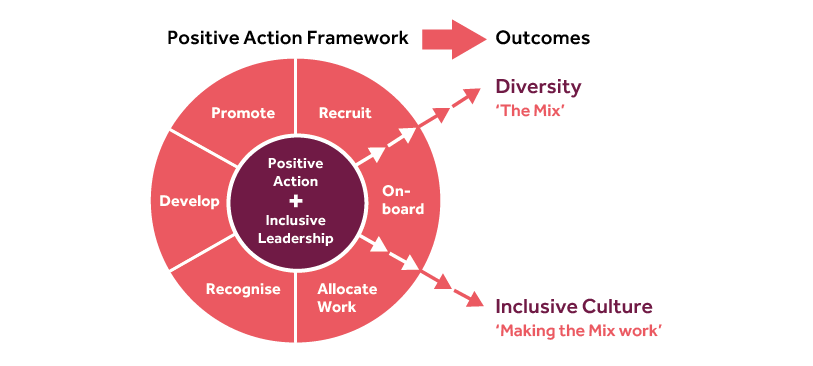 The Positive Action Framework equips line managers with the tools they need to take positive action through the employee lifecycle and everyday leadership actions, and supports us to implement and develop our internal policies and practices, to address demographic imbalances where we know we are under-represented. Here are some examples of the positive action we have taken to ensure that women are fairly treated at different stages in their career at the FCA:
Flexible working arrangements - we continually develop and promote a range of career support and flexible working options, including part-time working. We are aware from our 2018 employee survey that this is highly valued. There was an 88% favourable response to the question. 'I can take time off when I need to' and in 2017 we were ranked number 8 in Glassdoor's best work life balance survey.  By introducing new technology and new ways of working as part of the recent move of our London Headquarters to Stratford, we have further improved the support available to our people who wish to work flexibly.
Pay – we annually sample and test salary distributions at appointment, and compare performance ratings, pay and bonus amounts at annual pay review by gender. Through robust moderation meetings, we ensure that salary offers, progressions and performance outcomes are fair and have not introduced gender bias.
Recruitment - we put our job descriptions through a gender decoder to ensure that we use inclusive language, use a specialist D&I focussed recruitment platform to help us attract applicants from diverse talent pools and aim to use gender balanced interview panels in our recruitment.
Gender pay gap data
Since 2017, all employers in Great Britain with more than 250 staff are required by law to publish their Gender pay gap figures annually. The gender pay gap is the difference in the average hourly salary of all men and women across the organisation, described by the mean and median. The gender pay gap should not be confused with equal pay which refers to men and women receiving the same pay for the same job or work of equal value.
Gender pay and bonus gap
| Pay | Median | Mean |
| --- | --- | --- |
|   | 21.2% | 18.5% |
| Bonus | Median | Mean |
|   | 26.2% | 20.6% |
Our gender pay gap is 21.2% (median) and 18.5% (mean). The pay gap is based on a snap shot taken on March 31st 2018. The figures have changed slightly compared to those reported in 2017. The overall median has increased by 0.3% (from 20.9% to 21.2%), but the mean has decreased by 0.8% (from 19.3% to 18.5%).
Our gender bonus gap is 26.2% (median) and 20.6% (mean). The bonus gap is based on the gross bonus paid in the period from April 1st 2017 to March 31st 2018. There has been a slight increase in both the median and mean since last year's report. 
Total bonus amount and proportion

In the last 12 months 84% of women received a bonus compared to 77% of men. Women received a higher proportion of bonuses and female bonus awards were slightly higher this year - an increase of 0.2% (from 13.6% to 13.8%). However, as the bonus is calculated as a percentage of salary the actual monetary amounts for both the mean and median are smaller.
Gender distribution by salary quartiles

The diagram above is a representation of the gender distribution within the FCA. All male and female employees are ranked together based on hourly earnings from the lowest to the highest. The list is then divided into four sections (called quartiles) with an equal number of employees in each. The illustration shows, we have significantly more women in our business support roles which drives the imbalance in the lower salary quartile. The percentage of women in this quartile has increased over the last year from 63% to 66%.
The percentage of women in the highest quartile has also increased from 36% to 39%, which shows some positive movement in increasing the number of women in higher paid roles. However, this overall distribution continues to drive the gender pay gap.
Why we have a gender pay gap
The gender pay gap at many organisations is driven largely by an imbalance of women in senior roles. At the FCA this is not the case because we have worked hard to achieve greater balance in our senior teams. We now need to look closely across all our levels if we want to further close our gender pay gap.
We have identified two areas of particular gender imbalance in our structure – one at Technical Specialist level (in our higher paid middle-management layer), with only 30% female representation and one at business support level (in our lower paid layer), with 74% female representation. We now need to take positive action to ensure that the pipeline of talent for technical specialist and business support roles attracts a more balanced gender mix. And we recognise that a good gender balance at all levels will also help to ensure we remain on track to hit our 50:50 gender targets at senior levels – by ensuring that we have a good internal pipeline of both women and men to develop into our senior roles.
Page updates
10/06/2022:
Editorial amendment
Links added to right hand navigation.
16/05/2022:
Link changed
Page moved to data section.