Understand how we value differences in our people and use these to make us a stronger and more effective regulator. 
Our Mission sets our goal to serve the UK public interest through better regulation. As the regulator of the financial services industry, the decisions we make directly impact the lives of millions of people who use those services every day. Diversity of thought enables us to be more innovative in our thinking. So we will perform better when we employ the very best diverse talent and expertise and develop an inclusive culture in which the range of voices and views can be heard.
The value of diversity and inclusion can be seen in the decisions that businesses make so it's vital in terms of how we regulate the conduct of the industry. We realise we have a responsibility to lead by example within the financial services sector, highlighting diversity and inclusion as an integral element of good conduct. We want to work closely with firms across the sector, both to share our insights and to learn from what others are doing.
As the figures show, we have work to do and we are taking bold steps to place diversity and inclusion at the heart of our work. We are committed to sharing our experiences and learning from others.
Our aim is to create a diverse and inclusive workplace that is free from discrimination and bias so that we can better deliver our role as regulator. We want our employees to trust that their differences are respected and valued so they can genuinely be themselves at work. In addition, we have set ourselves stretching targets to increase the representation of women in our senior team to 50% and Black, Asian, Minority Ethnic (BAME) colleagues to 13% by 2025 – representative of the UK population.
We are covered by the Public Sector Equality Duty (PSED) of the Equality Act 2010 and track our progress each year through our Annual Diversity Report 2018/19. This report highlights the progress we are making and where we are going next.
To help us achieve our aim:
we consider a full range of issues when thinking about how to create a diverse mix of people, including: LGBT+, social mobility, faith, disability, and caring responsibilities
our Executive Diversity Committee takes strategic decisions on issues affecting equality, diversity and inclusion at the FCA, and has senior executive level responsibility for taking forward our plans and activities
all our senior leaders have an objective to promote diversity and inclusion
Our strategy to achieving a diverse and inclusive workplace has four elements:
Making diversity integral to attracting, recruiting and developing our people at all levels of the organisation
An inclusive approach to make the most of our diverse talents
Applying a diverse viewpoint when considering how to protect consumers from harm
Engaging with the financial sector to share our approach and to learn from others
We are one of the top 100 organisations in the Stonewall Workplace Equality Index and are a Stonewall Scotland Diversity Champion. We are also members of StandOUT, the Financial Public Sector LGBT+ Network (including the Bank of England, Financial Ombudsman Service, Financial Services Compensation Scheme, Money Advice Service and the Pensions Regulator).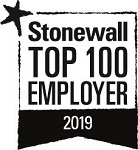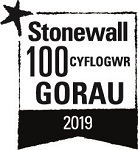 We have also achieved success with our carers and social mobility agenda.  We received Carers Positive accreditation level 1 in our Edinburgh office, in recognition of the FCA's policies and support for employees with caring responsibilities. We were also placed at 34 in the Social Mobility Index top 50.

Read more about our strategy and approach to building a diverse and inclusive culture.
Women in Finance Charter
We signed the Women in Finance Charter in June 2016. The Charter requires financial services companies to make improvements in the ratio of women in senior positions.
We have set a target for 45% of our senior leadership team to identify as female by 2020, and 50% by 2025. As at 31 March 2019, our senior leadership team is 40% female and 60% male. We use Office of National Statistics data to set our targets. A 50/50 gender ratio is representative of the diversity of the UK population.
We have committed to publish annual metrics against these targets on our website and we are carrying out a range of actions as part of our strategy to help achieve these targets.
We were also delighted to be listed this year in the Times Top 50 Best Employers for Women.

BAME targets
We are also focusing attention on the ratio of BAME colleagues in senior positions. We are an ethnically diverse organisation, but there is a smaller proportion of BAME people at higher job grades.
We have set a target for 8% of our senior leadership team to identify as BAME by 2020, and 13% by 2025. We used Office of National Statistics data to set our targets. 13% BAME is representative of the diversity of the UK population. As at 31 March 2019, 5% of our senior leaders identify as BAME.
We are focused on supporting career development for our people from the BAME community and are taking a range of actions as part of our strategy to achieve our targets.
Demonstrating our continued commitment to best practice in this area, we have again been listed in the annual Employers for Race Listing in 2018 and in February 2019 we became signatories to the Race at Work Charter.