Benchmarks
Published: 27/03/2015 Last Modified: 20/05/2015
Benchmarks help to set prices, measure performance, or out work out interest payments in a wide range of financial markets.
We help shape thinking on how to regulate financial benchmarks through our work with international regulatory bodies and the UK Fair and Effective Markets Review. We regulate eight key benchmarks and can fine firms and ban individuals where we find attempted benchmark manipulation.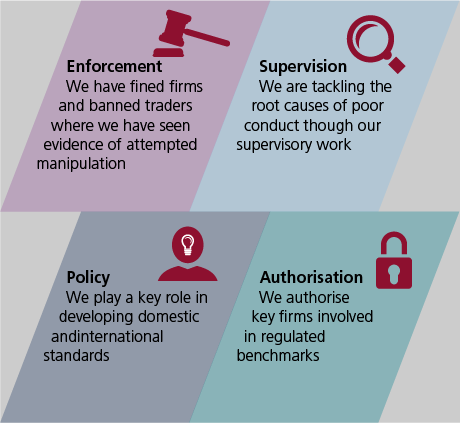 We have an objective to ensure that markets work well. Key benchmarks are used across the globe, so it is vital that regulators take coordinated steps to improve market integrity.
We are working with HM Treasury and the Bank of England on newly proposed European-wide rules for benchmarks, and domestic reforms led by the UK Fair and Effective Markets Review.
We will also continue to engage with global regulatory groups, and co-chair the work of the International Commission of Securities Regulators (IOSCO) and the Financial Stability Board (FSB) on benchmarks.