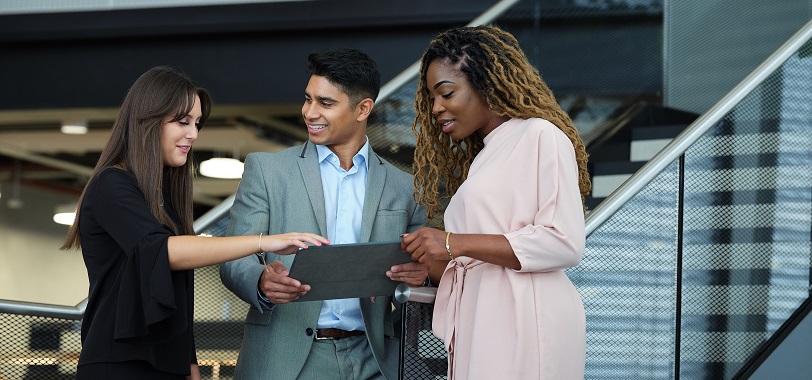 Whether you're finishing school, studying at university or have already entered the world of work, we offer you the chance to start your career and make a real difference.
Graduate programmes
Thank you for your interest, however applications for our 2020 graduate programmes are now closed. This season we have received over 12,000 applications across all of our programmes. Applications for next years' graduate programmes will be opening in autumn 2020. To register your interest for our 2021 programmes please click here[2] and enter your details.
Summer internships
Applications for our 2020 summer internship programme are now closed. We will be opening applications for 2021 in October. To register your interest for the 2021 programme please click here[2] and enter your details.
Our ten week summer internship offer you the chance to work and learn alongside industry experts, giving you everything you need to decide whether a career with us is right for you. We offer both a generalist internship route as well as programmes specifically for Data Science, Technology & Change and Cyber Security. If successful, you could be offered a place on one of our graduate programmes for 2022.
How to apply
To be eligible to apply for any of our graduate or summer internship programmes, you must have obtained or be on track to achieve a 2:1 degree or above from any university. We no longer have a requirement for UCAS points.
Application processes differ depending on the type of role you apply for. Find out about what to expect in our application process[14]. If you have any queries about your application please call 0207 654 7202.
Placements
In addition to the various access, internship and graduate programmes we run, we are able to offer short term placements for the completion of specific research projects to students completing Masters degrees in Public Policy, where the completion of such a placement and research project in a public body is necessary to fulfil the requirements of the degree. We invite university administrators and directors of such programmes to contact us via [email protected] if they would like to propose placing students with us.
Why I chose the FCA
Hear our colleagues explain why they chose a career that matters
Apprenticeships
Our apprenticeships offer you a 18-36 month opportunity to take part in key aspects of our day-to-day work, develop new skills and gain an industry leading qualification while you earn. We look for passion and integrity as well as ambition and aptitude. We don't require you to have previous work experience, but you will need to have attained 5 GCSEs (A-C) and 2 A-Levels.
Our 2020 apprenticeship scheme is closed. For further information please visit our Apprenticeship page.