We regulate 8 benchmarks specified in legislation by HM Treasury. The EU Benchmarks Regulation entered into force on 30 June 2016 and will fully apply from 1 January 2018, when it will bring a much wider range of benchmarks into regulation.
Benchmarks help to set prices, measure performance, or work out amounts payable under financial contracts in a wide range of markets.
We help shape thinking on how to regulate financial benchmarks through our work with international regulatory bodies and domestic UK regulation.
We regulate 8 key benchmarks and can fine firms and ban individuals where we find attempted benchmark manipulation. Find out more about the benchmarks we regulate [1] and our powers.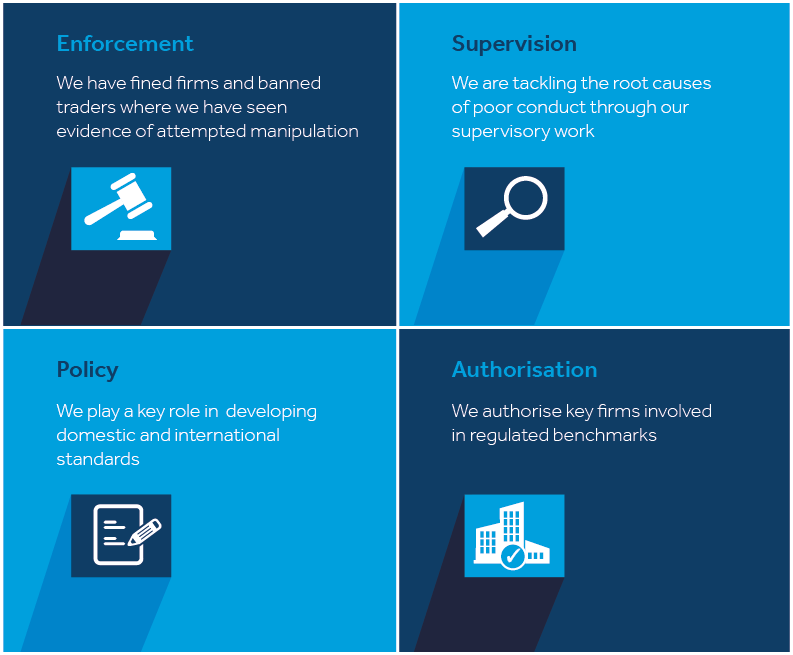 Our strategic objective is to ensure that markets function well. One of the ways to measure this is through benchmarks. Similar benchmarks are used by regulators across the world to measure market integrity, so it is important that they have coordinated rules for setting these benchmarks.
We work with the Treasury and the Bank of England on EU-wide rules for benchmarks, as well as with global regulatory groups. We also co-chair the work of the International Commission of Securities Regulators (IOSCO) and the Financial Stability Board (FSB) for benchmarks.