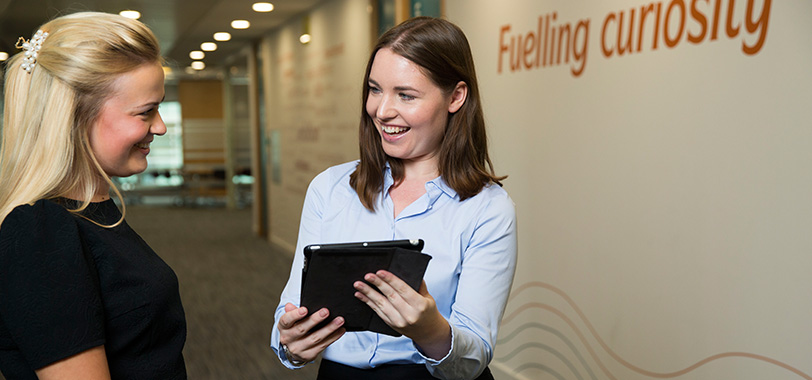 We're a signatory to the Government's Disability Confident scheme. This means that we guarantee disabled people an interview if they meet the minimum criteria for the job vacancy. 
Apprenticeships
Applications for our apprenticeship programme are now closed.
Graduate and summer internship programmes
Applications for our graduate and summer internship programmes are now closed.
Submit application form
During this initial stage, we'll confirm whether or not you meet the minimum requirements for our programme. We'll ask you to give details of your education and any previous work experience you may have had.
Online tests
If your initial application meets our requirements, we'll ask you to carry out a series of online tests, including:
a Situational Judgement Test (SJT)
a Numerical Reasoning Test (NRT)
Logical Reasoning Test (LRT)
If you pass each test, you'll be invited to the next one. We strongly encourage you to practise beforehand by taking online tests like these, and to read the instructions carefully when it comes to the real thing.
Motivational questionnaire
Next, you'll be invited to fill out a motivational questionnaire. This will ask for your reasons for applying to the FCA and your chosen programme area. We'll also ask you to demonstrate some wider commercial awareness by explaining the FCA's role within financial services.
Telephone interview
We'll then ask you to undertake a 30-minute telephone interview which will cover your motivation, values and competencies. Again, we'll ask you to tell us in more detail why you feel you're suited to a career at the FCA and what you feel you can bring to the organisation. We'd encourage you to look online for sample competency-based interview questions to help you prepare.
Assessment centre
This is the final stage of the process. Our assessment centres last half a day and consist of four exercises. Here, you'll undertake a case study exercise followed by a presentation, a group exercise and a final interview.
Useful tips
We use our FCA-wide cultural characteristics and personal strengths to assess all candidates. Please bear them in mind, especially during your telephone interview and at the assessment centre. When you are asked for examples, try to give ones which relate to you and how you demonstrate them.
Cultural characteristics:

curiosity
professional excellence
strength as a team
backbone
already on the case

Personal strengths:

judgement
drive
influence
Go to related content