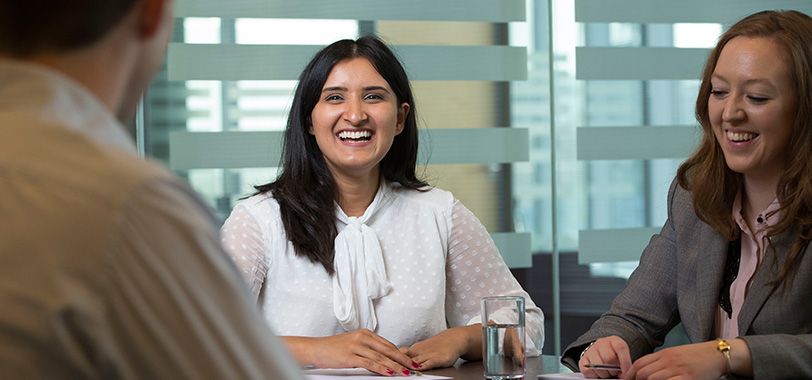 A career in Enforcement and Market Oversight is one that protects and enhances the integrity of the UK financial sector. By investigating and bringing enforcement action on behalf of the FCA, we make it clear that there are real consequences for those who do not meet our standards.
Applications to our 2018 Enforcement and Market Oversight graduate programmes are now closed. Please click here to register your interest for 2019.
Enforcement
Where an investigation uncovers evidence of misconduct, enforcement action can include fines, bans and convictions. In 2014 alone, our fines totalled nearly £1.5 billion. It's high-profile and significant work that often makes the front pages. But there's more to Enforcement than punishing offending firms. We use a wide range of tools to drive cultural change and prevent crime, from education, disruption and intervention to our formal criminal, civil and regulatory powers.
Market Oversight
We are home to the UK Listing Authority, which regulates and maintains the list of the UK's approved issuers of shares and bonds. They decide who is allowed to trade on the London Stock Exchange, review prospectuses, monitor market disclosures and deal with serious breaches. Recently, this has included investigating the LIBOR scandal. By supervising transaction reporting and cracking down on insider trading and price manipulation, we allow investors to have confidence in the integrity of the UK market.
What you'll do
As a Graduate Forensic Investigator in Enforcement, you'll investigate and tackle the most serious regulatory breaches and incidents in financial services. Market Oversight graduates will be involved in the full range of regulatory and operational activities. That could mean negotiating our local and international policy positions, reviewing initial public offering documents and carrying out supervisory visits. In both roles, the work you do will be varied, challenging and interesting, and you can expect to gain an understanding of our legal framework as you contribute to high-profile cases.
What you'll need
In Enforcement and Market Oversight, we look for graduates with an analytical mind who can build strong relationships with their colleagues. Confidence and decisiveness are crucial. You'll be influential and persuasive in your approach and adept when it comes to figures and legal terminology.
Go to related content